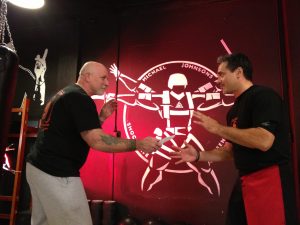 Ajarn Arlans Influence on Shockwave Defense LLC.
When I first met Arlan (Salty Dog) Sanford I wasn't what sure what to think. So here's the story of how we started fighting with Dog Brothers.
Introduced to Arlan by my instructors in Lameco Eskrima, Felix Valencia I wasn't what sure what to think of him. He looked like Yoda unsuspecting, always laughing, and seemed non-violent.  I was skeptical to say the least. I figured, "I'll watch this guy to see if it's what I'm familiar with." He just kept laughing and talking about some of his fights and his training under Edgar Sulite. Finally, he instructed me to take a stick and hit the bag as hard as I could, I walked over to hit the bag. He then stood up from the bench, limped over to the bag, & hit that bag so hard I could hear it in the I-beams. "Do that again," I said. I decided that day this was my new instructor for sticks. Within a week I was breaking 12-20 sticks every half hour.