Specialist & Operator Testimonials
What Are The Tacticians/Operators Saying About Shockwave Defense?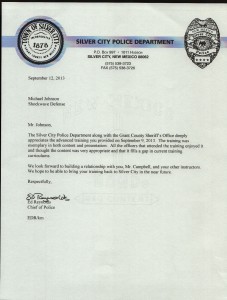 "The Silver City Police Department along with the Grant County Sheriff's Office deeply
appreciates the advanced training you provided. The training was exemplary in both content and presentation. All the officers that attended the training enjoyed it and thought the content was very appropriate and that it fills a gap in current training curriculums."
-Silver City Police Department
"Michael Johnson and Shockwave Defense are the leaders of modern combat training. Encompassing all aspects of today's modern warrior with tomorrows technology and training. Drawing on over 30 years of experience Michael's teaching techniques and grasp of the warrior mindset put this program years ahead of anything I have experienced in my ten years in law enforcement, and six years as a basic/advanced instructor. If I had to go into battle tomorrow I hope that I trained at Shockwave today. If you are serious about training Shockwave defense is the program for you."
-J. Erickson, Law Enforcement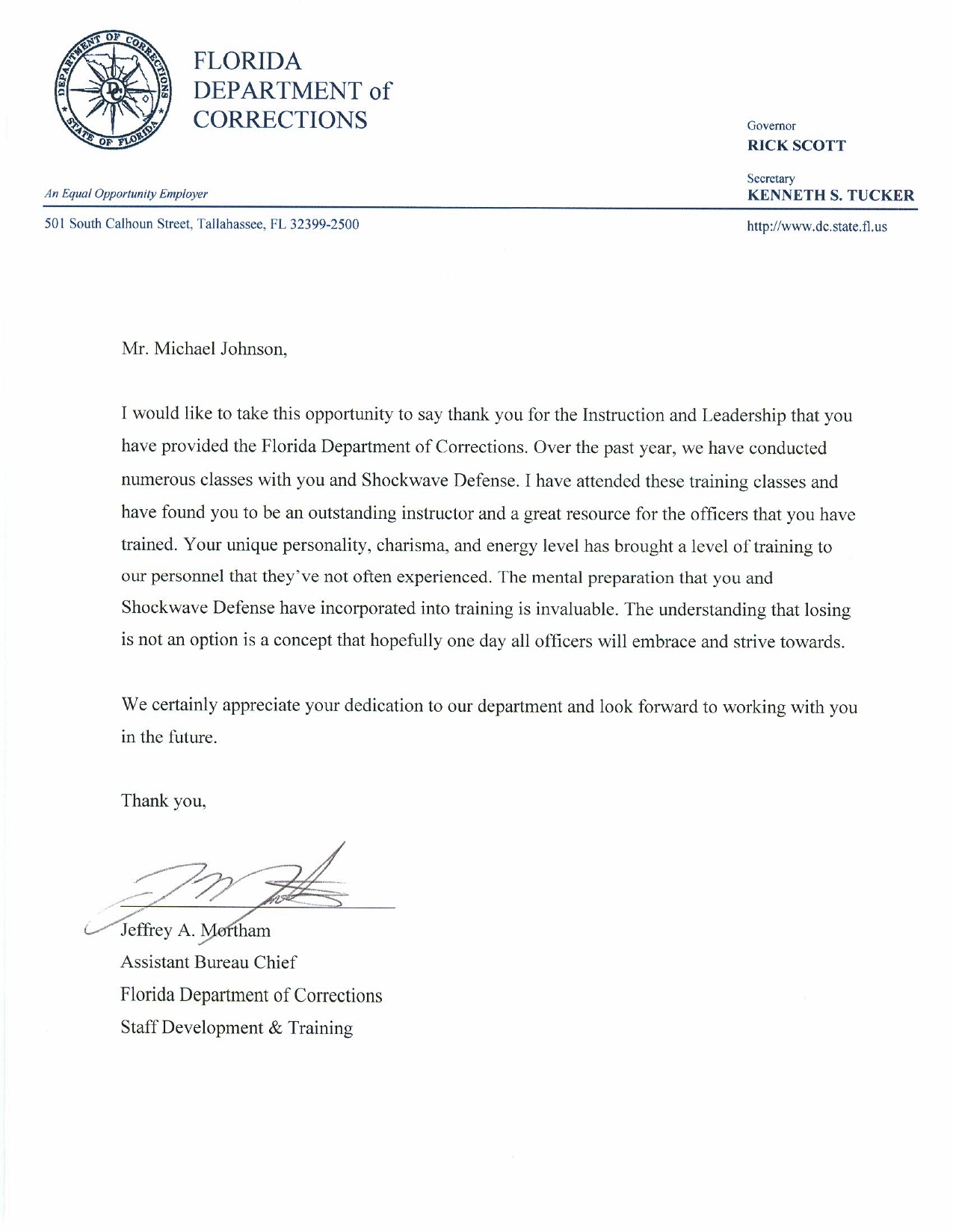 "Your unique personality, charisma, and energy level has brought a level of training to our personnel that they've not often experienced. The mental preparation that you and Shockwave Defense have incorporated into training is invaluable. The understanding that losing is not an option is a concept that hopefully all officers will embrace and strive towards. We certainly appreciate your dedication to our department and look forward to working with you in the future."
-Florida Department Of Corrections
"As far as hand 2 hand tactics are concerned Shockwave Defense is far superior to any hand 2 hand training that I've received to date. I was with Shockwave Defense prior to going into the military. The Leadership training I was given at Shockwave Defense allowed me to better command my men in Ranger School while having up to 30-40 men under my command. I have lead combat command units in mountain, coastal, and jungle terrain."
(Specialists Zachariah Payne)
US Army Ranger
3rd Battalion 75th Ranger Regiment
Special Operations Command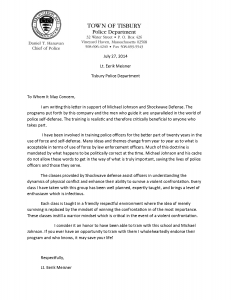 "The classes provided by Shockwave defense assist officers in understanding the dynamics of physical conflict and enhance their ability to survive a violent confrontation. Every class I have taken with this group has been well planned, expertly taught, and brings a level of enthusiasm which is infectious.
Each class is taught in a friendly respectful environment where the idea of merely surviving is replaced by the mindset of winning the confrontation in of the most importance. These classes install a warrior mindset which is critical in the event of a violent confrontation.
I consider it an honor to have been able to train with this school and Michael Johnson. If you ever have an opportunity to train with them I wholeheartedly endorse their program and who knows, it may save your life!"
-Tisbury Police Department
"It took approximately four months for me to accept that Master Johnson not only had a lot to teach, but that he truly deserved the title of Master. My training, to date, has been worth the price of admission….Unlike other defensive tactics instructors, Master Johnson has had no problems adapting his training to accommodate my unique defense needs…I recommend Master Johnson without reservation to anyone contemplating studying with him. He is a true professional who constantly works to extend his knowledge of the defensive arts. I do not give endorsement lightly, but Master Johnson has earned my respect, and I truly believe in the effectiveness of his training."
(Ken U.)
"Threat Analyst"
"The most effective hand to hand training I've had. More challenging than basic training; it gives me a positive mind. I need this kind of structure in my life!"
(Antonio Garcia)
Sgt. E6, U.S. Army
"I attribute my success in life and as an Officer to Shockwave Defense!"
(Arlys M. Lee)
Police Officer
The Shockwave Defense system has been invaluable to my personal knowledge of self-defense and of my own movements. I was able to incorporate its philosophies into my trainings and daily life. The beauty of this system and of its teaching is that it changes and grows with each different scenario a person may face in this modern world (it is not a static system like all of the others).
(Mark S. Gomez)
Training Coordinator 
Juvenile Probation and Parole Officers
State of NM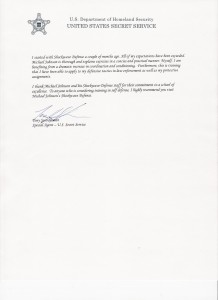 "This is training that I have been able to apply to my defensive tactics in law enforcement as well as my protective assignments."
(Surodjawan)
United States Secret Service
"This class will promote endurance and confidence that enables you to handle yourself in any situation…The most effective self-defense I have ever studied!"
(Miguel Cardiel)
Bounty Hunter/Security
"I can also attest to his skill not only as a martial artists, but also as an excellent instructor. His patience and professionalism are second only to his expertise. I would highly recommend Mr. Johnson to anyone seeking to employ him."
(Sgt. Applegate)
United States Marine Corp.
"A comprehensive, understandable, contemporary, self-defense system that applies to real life situations. A real confidence builder!"
(Darrin Bjorkman)
US Navy: Information Technician
"An effective new age training system that revolutionizes the way you train."
(Sgt. David Havanich)
Marine Corp.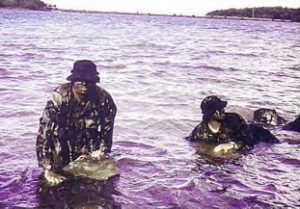 "A to the point, and easily understood self-defense system. Michael Johnson's Shockwave Defense is concise, and well articulated in communicating what needs to be done. Especially effective for beginners…no matter what level you are at, he'll leave a lasting impression while helping you to surface your full mental and physical potential!"
(Steven Norene)
Chief Petty officer: US Navy
"The most effective hand to hand training I've had. More challenging than basic training; it gives me a positive mind. I need this kind of structure in my life!"
(Antonio Garcia)
Sgt. E6, U.S. Army